Apple Chipotle Glazed Ham
Just three ingredients…But, oh what great ingredients! We cut an 11lb. Zaycon Fresh ham in half and when you use a Zaycon Fresh ham you get "just" a lean delicious ham…no bones, added water, chemicals or fillers, no gluten or MSG. The glaze is only apple jelly and Country Bob's Apple Chipotle All Purpose Sauce providing all the seasoning we needed for a delicious main course.
A Pellet Grill Recipe
Prep Time: 5 minutes
Cook Time: 90 minutes at 300 degrees (149c)
Grill: Wood Pellet Grill/Smoker
Ingredients: Apple Chipotle Glazed Ham
5 ½ lbs. boneless Carve Master Apple wood smoked ham
1 cup apple jelly
Directions: Apple Chipotle Ham
You're just reheating this big boy as it is fully cooked with a very nice apple smoke finish. So, put it on the grill for 90 minutes at 300 degrees (149c). Easy and Awesome…In a small saucepot heat sauce and jelly, blending well. After ham has cooked for sixty minutes, baste with glaze every 10 minutes. Always add your sauce the last 30 minutes of your cook so it doesn't burn.
Ready For The Grill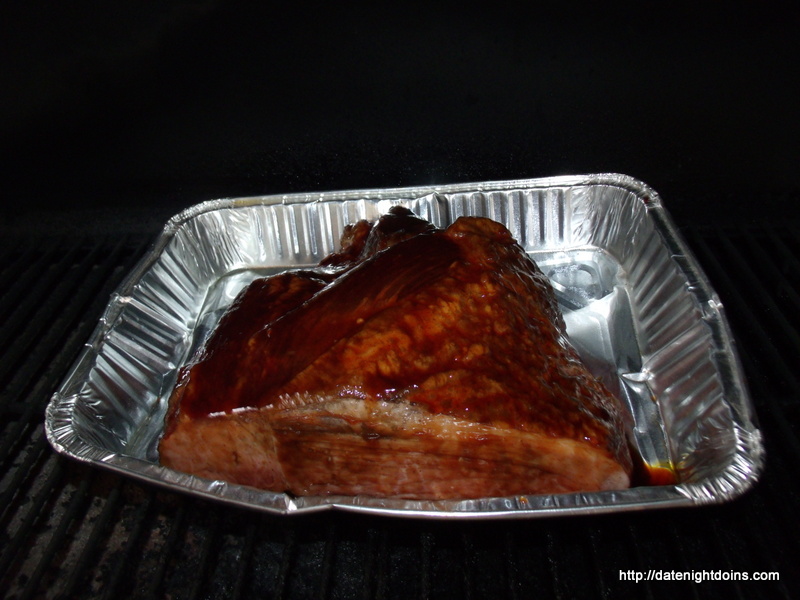 Sauce Ham the Last 30 Minutes of Your Cook
Lookin' Good
*Recipe courtesy of  Ken with Date Night Doins
World's Greatest Burger Video
Tailgating BBQ Kielbasa